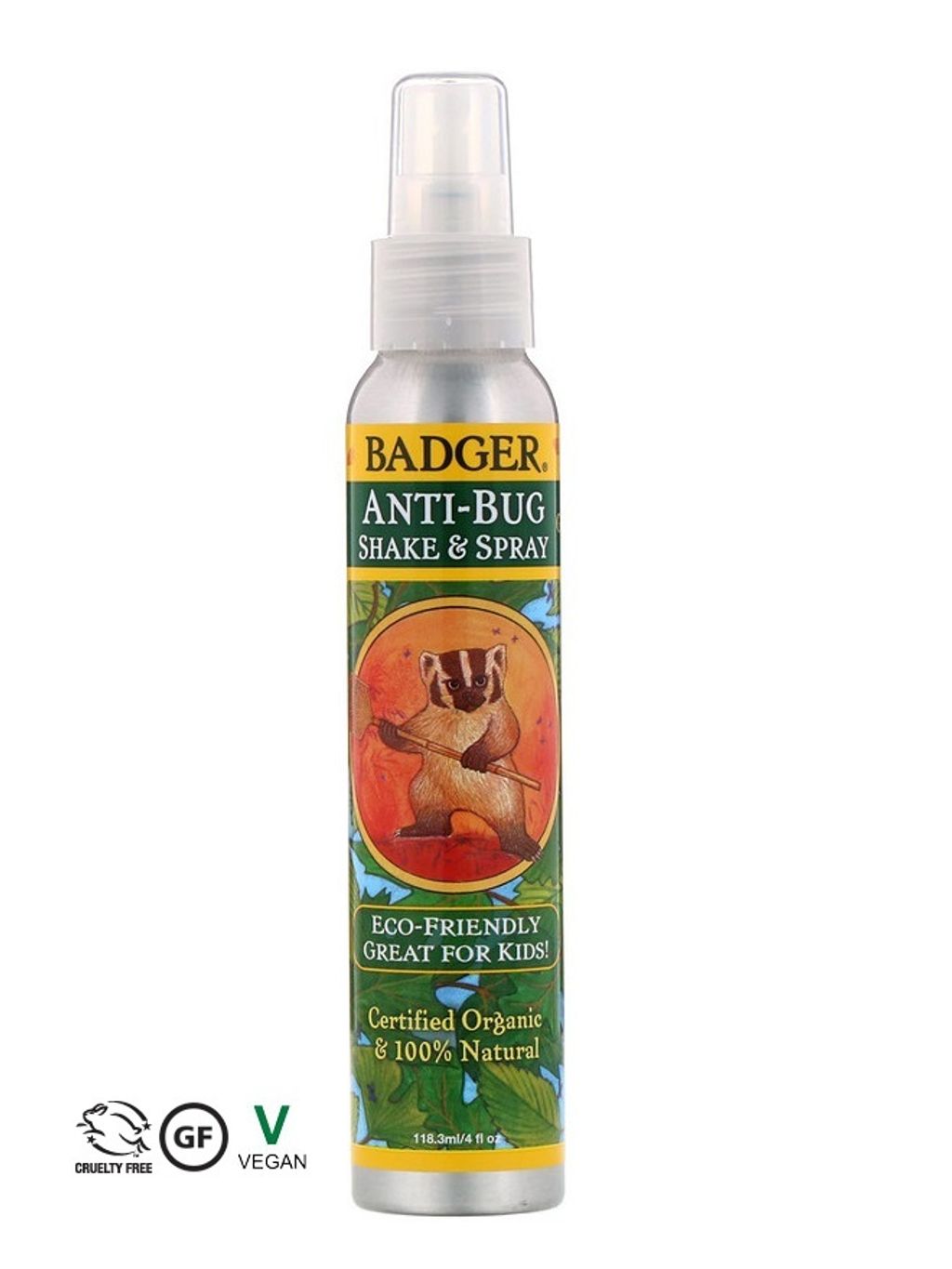 Badger Anti-Bug™ Shake & Spray - 4 oz (Good For the Skin. Bad for the Bug.®)
Product Description
Organic & Natural Bug Repellent Spray
Repels insects naturally with the pleasant aroma of Citronella, Rosemary, and Wintergreen essential oils.
Laboratory tested to repel mosquitoes.
No synthetic chemicals, DEET or petroleum products.
Good For the Skin. Bad for the Bug.® Badger's Anti-Bug Shake & Spray is a totally organic & natural bug spray repellent. Using pure essential oils to naturally keep bugs, mosquitoes and insects away from you and your family. Based on our effective and popular Anti-Bug Balm formula, this organic Shake &Spray bug repellent naturally repels insects with the pleasant aroma of Citronella, Rosemary, and Wintergreen essential oils. Badger Shake & Spray contains no DEET, petroleum products, or synthetic chemicals, and has been independently lab tested for efficacy - so it's safe and effective for the whole family! The sturdy, lightweight aluminum bottle is easily recyclable.
How To Use
Directions for use: Shake well before each use. Spray directly on entire area of skin to be protected. Reapply as needed. For sensitive skin, apply a small amount of the product to test before full use. Keep out of eyes and keep off broken or unhealthy skin. Adult supervision is recommended when using this product on children.
Ingredients
Active Ingredients: 23% *Glycine Soja (Soybean) Oil, 10% *Ricinus Communis (Castor) Oil and Essential Oils of 4% *Cymbopogon Nardus (Citronella), 2% *Cedrus Deodara (Cedar), 2% *Cymbopogon Schoenanthus (Lemongrass), 1.5% *Rosmarinus Officinalis (Rosemary), 1% *Pelagonium Graveolens (Geranium), 1% *Mentha Piperita (Peppermint).
Inactive Ingredients (55.5%): Water, .5% *Gaultheria Procumbens (Wintergreen) Essential Oil.
*=Certified Organic

Our products and ingredients are never tested on animals and Badger complies with the Leaping Bunny Standard.
Frequent Asked Questions
Can I use your Anti-Bug products on my children? How about my baby?
Badger Anti-Bug Balm, Anti-Bug Spray, and Anti-Bug Sunscreen are formulated using USDA Certified Organic and 100% natural ingredients, including essential oils that have insect repellant qualities. Essential oils in high concentrations could irritate the skin; however, the percentages we use in our products should not cause irritation unless your child has an allergy or specific sensitivity. Many users have told us that our Anti-Bug repellents have proven to be safe and effective for their children. However, we recommend that you consult with a doctor before using this product on an infant or toddler. As with any product that's new to you and/or your family, it's best to do a skin patch test prior to full usage and, if you have any questions, check with your doctor.
Do your Anti-Bug Repellents help repel ticks?
We have anecdotal evidence that our repellents are helpful, but due to the risks associated with Lyme disease, we do not recommend relying on our Anti-Bug repellents to keep you, your family or your pets tick free.
Why did Badger remove the USDA Organic logo from the bug repellent packaging?
The US Environmental Protection Agency (EPA) regulates all bug repellents and they only allow these products to reference a single federal agency on their labels as they are concerned that consumers will not know who to go to if they have a problem with the product. So, even though our Anti-Bug Balms and Sprays are all certified organic, we cannot reference the USDA on our labels.
Do Badger Anti-Bug Products protect against Zika? Were your products tested on the type of mosquito that carries the Zika virus?
The W.S. Badger Company, Inc. manufactures Anti-Bug Balm, Anti-Bug Spray, and Anti-Bug Sunscreen using all natural ingredients that are DEET-free. These products are formulated and lab tested to repel mosquitoes but they are not intended to control or mitigate specific species of insects that may transmit diseases to humans, such as those that carry the Zika virus.
What kind of testing has been performed on your Anti-Bug products?
A laboratory trial was conducted to assess the efficacy of Badger's Anti-Bug Balm formula as a mosquito and stable fly repellent. The test results concluded, "Badger Anti-Bug Balm was highly effective in controlling mosquitoes and stables flies for up to one and a half hours post treatment, in terms of 95% repellency. Efficacy remained high up to three and a half hours against mosquitoes and three hours against stable flies."


Badger's Anti-Bug Spray and Anti-Bug Sunscreen were both laboratory-tested to determine the efficacy of these products as mosquito repellents. Test results concluded, "The Anti-Bug Spray provided a narrow range of 3 to 4 hours of protection, with an average of 3.4 hours. The Anti-Bug Sunscreen allowed a wider range of 3.5 to 5.5 hours of protection, with an average of 4.1 hours."
---