Here is what you need to know when your order will be shipped:
For ready-stock item(s), your package will be shipped within 3 (THREE) business days after the order payment date using selected couriers*. Else, "3-Days Shipping Guarantee" is in force. (What is this?).

The package will usually arrive within 7 (SEVEN) days and should not take more than 14 (FOURTEEN) days.

For pre-order item(s), usually it will take between 21 to 42 days for the product to arrive in Malaysia, but custom clearance process is unpredictable. Overall, it may take up to 90 (NINETY) days for you to receive the package. Pre-order item is tagged with [PRE-ORDER] in the product name.
Combination of ready-stock and pre-order item will be shipped in a single shipment after pre-order item(s) arrived.
To stay focused and challenge ourselves, we introduced "3-Days Shipping Guarantee".
If we failed to ship your item within 3 (THREE) business days after

the order payment date

, your shipment is free! .
Please report the late shipping here.
Selected Couriers For 3-Days Shipping Guarantee
PosLaju
Skynet
ZeptoExpress
Pgeon Delivery
Tracking Orders
Once your order is ready to be shipped, you will receive a shipment confirmation e-mail. It will contain shipment details, your tracking number, and a package tracking link. To track an order on BeautySpot, sign in to access My Account that will contain your order information.
Shipping & Courier Info
We offer multiple shipping options. Shipping cost are determined by zone. A full breakdown can be found below.
You will have the opportunity to select your preferred delivery method as your proceed through checkout, and will be able to check the total order value (including postage costs) before you complete the transaction.
Pos Ekspres


Track & Trace: CLICK HERE
Pos Ekspres is available for sachet or sample only.
Pos Ekspres guarantees the reach of the mails at the intended destination within one, two or three days depending on the delivery zone.
No signature required upon delivery.
FlexiPrepaid
Track & Trace: HERE
An economic delivery option to deliver your item/merchandise via Pos Malaysia to all over Malaysia.
Solution for 2kg and below (if your parcel weight is more than 2kg, your parcel will opt to Pos Malaysia post parcel).
Reminder: If you choose this method, your tracking number will only start appear/trackable after the parcel start dispatched out from the posting point to PUSAT MEL NASIONAL (Not from the date that we dropped the parcel).
Signature required upon delivery.
Retour service of item to sender.
FlexiPrepaid Delivery Service Level Agrement (SLA):



| | |
| --- | --- |
| Peninsular Malaysia (Intra-State) | D+3 |
| Peninsular Malaysia (Inter-State) | D+4 to D+5 |
| East Malaysia | D+7 |

"D" means the posting day provided that the posting takes place before the last collection time published at the respective posting boxes on an official working day in Malaysia.
The numeral after "D" refers to the number of official working days in Malaysia after the posting day to complete the delivery.
Note: Remote areas are not subject to the above-mentioned delivery standards. Click HERE for list of remote areas.
Post Parcel (by Pos Malaysia)
Track & Trace: HERE
Acceptable weight is from range 0.01 kg - 30 kg
* Postage rate for the first 2kg is RM7.00
* Additional postage rate for the next 1kg is RM1.50
Postage Rate : Within Peninsular Malaysia / Sabah / Sarawak
Weight Range

Rates (RM)

(KG)

To (KG)


Above 0.00

To 0.50

7.00


Above 0.50

To 1.00

7.00


Above 1.00

To 1.50

7.00


Above 1.50

To 2.00

7.00


Above 2.00

To 2.50

8.50


Above 2.50

To 3.00

8.50


Above 3.00

To 3.50

10.00


Above 3.50

To 4.00

10.00


Above 4.00

To 4.50

11.50


Above 4.50

To 5.00

11.50


Above 5.00

To 5.50

13.00


Above 5.50

To 6.00

13.00

Pos Laju
Track & Trace: HERE

Guaranteed next working day delivery (D+1) within Pos Laju coverage areas.

For areas outside Pos Laju delivery areas, 2-3 business days standard delivery may apply.

For more information on coverage areas, please click here.
ABX Express - Track & Trace: HERE
Airpak Express - Track & Trace: HERE
DHL eCommerce
Track & Trace: HERE
Earliest confirmation of shipment date for DHLec is 2 (TWO) business days

after we received your order due to DHLec processing time.

E.g., if you submit an order on Monday, the earliest DHLec pick up parcel(s) from us is on Wednesday & if you submit an order on Thursday, the earliest DHLec pick up is on the next Monday (if no public holidays come in between).
Nationwide Express - Track & Trace: HERE
Skynet - Track & Trace: HERE
Zepto Express (Same Day Delivery)
Track & Trace: HERE
ZeptoExpress delivers in Klang Valley within 3 Hours of booking.
Be sure to be available during delivery to avoid extra charge on failed delivery.
Shipment date will be on the next business day or within 3 (THREE) business days.
For rush order, please include 'Priority Shipment' with your order (What is this?)
Alternative Parcel Delivery Service
#1: Pgeon to Pgeon Delivery (Kuala Lumpur, Selangor & Penang).
Must include valid phone number.
Only available for self pick-up within Pgeon points.
You can choose your preferred pgeon point at https://www.pgeon.delivery/pgeon-points/
We will choose (i) your preferred Pgeon point or, (ii) the nearest pick up point from delivery address provided with your order - if your preferred Pgeon point is not listed in Pgeon to Pgeon delivery service. Make sure you have transportation for this option.
Usual delivery from Pgeon Point A to Pgeon Point B is within 1-3 business days(s). You will receive an email/SMS notification when your parcel arrived and ready for pickup at your Pgeon pick-up point.
You need to mention your Pgeon Token number at Pgeon Point to collect your parcel.
As you received a notification, your Pgeon pick-up point will hold your parcel for 4 (FOUR) days before it gets sent back to us.
Example on how to choose your preferred Pgeon Point:
#2: Pgeon to Door Delivery (Kuala Lumpur, Selangor & Penang).
Currently available for limited area.
Estimated 1 working day(s)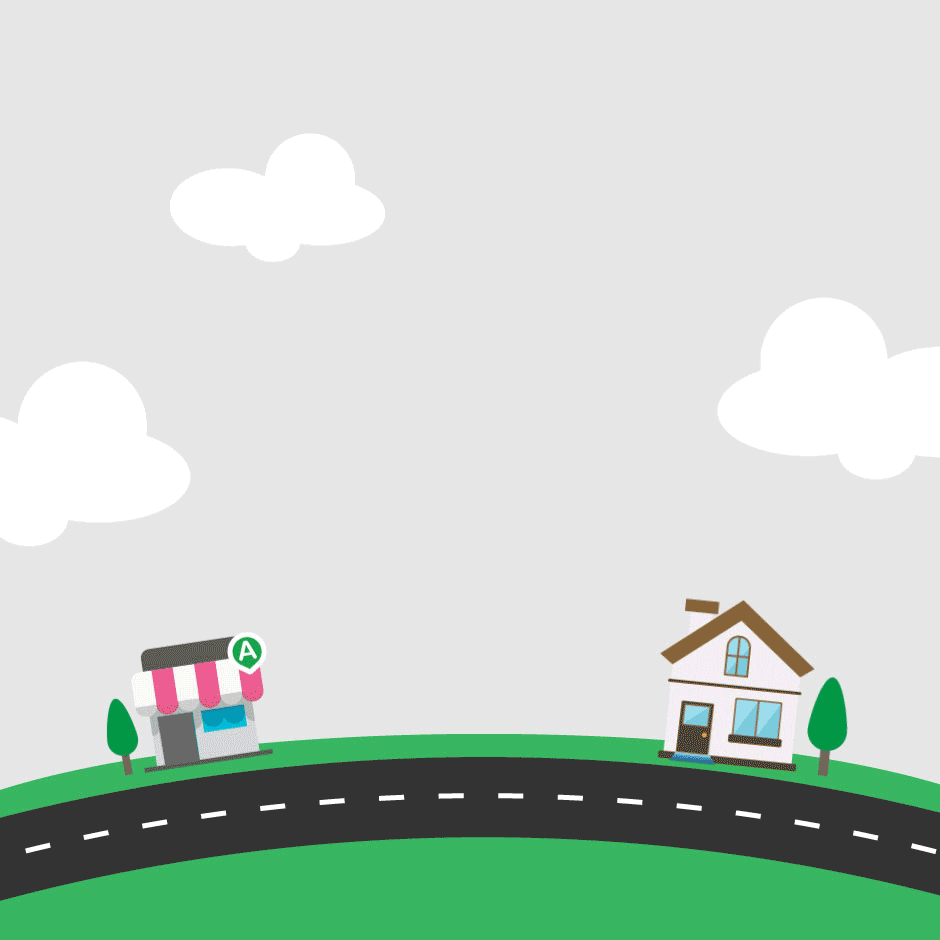 Sample Pgeon to Door Delivery: