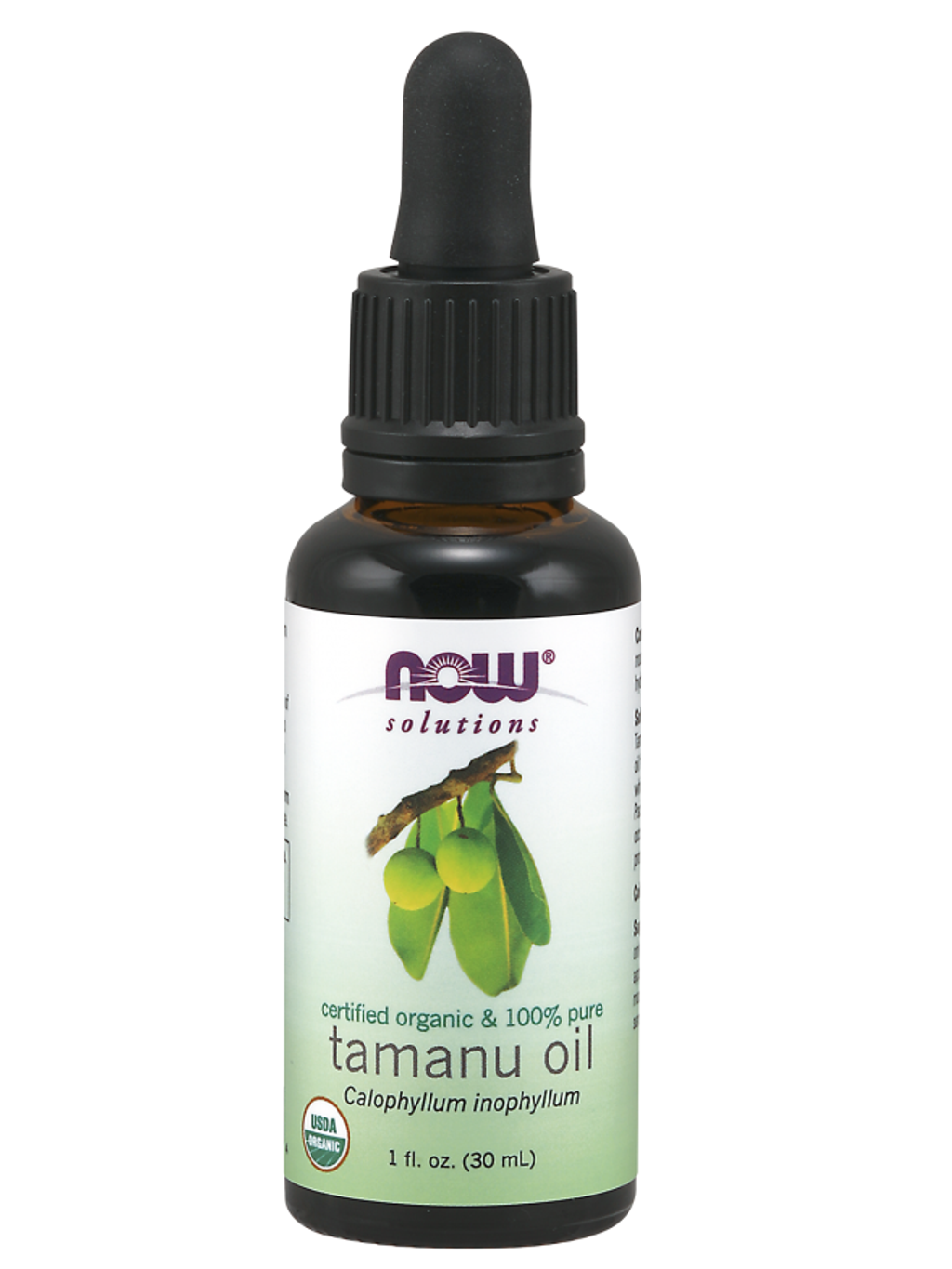 BEST SELLER
Now Foods Solutions Certified Organic & 100% Pure Tamanu Oil 1oz
Product Description
Calophyllum inophyllum
Condition: Skin in need of nourishment to promote natural hydration and rejuvenation.
Solution: NOW® Solutions Pure Tamanu Oil is a premium cold-pressed oil from the seeds of the tamanu tree, which is found throughout the South Pacific. Tamanu oil has naturally occurring essential fatty acids that promote soft, radiant, hydrated skin.
Certified Organic by QAI.
COLD PRESSED | HEXANE FREE | NON-GMO | ORGANIC | VEGAN / VEGETARIAN
Directions of Use
For external use only. To soften and nourish your skin, apply to body, face or scalp and gently massage until absorbed. Avoid sensitive areas such as the eyes.
Tamanu Oil's high concentration of saturated fatty acids causes it to solidify at room temperature. To melt, simply warm the bottle in your pocket or in a mug with warm water to return it to a liquid state.
Ingredients
Organic Calophyllum Inophyllum (Tamanu) Seed Oil (tree nut).
Certified Organic by QAI.
Caution
Not for internal use. Avoid contact with eyes. Keep out of reach of children.
What is Tamanu Oil?
WHAT IS TAMANU OIL ?
Tamanu Oil is a natural nut oil that is extracted from the nut kernels of the Tamanu Tree after the nut kernels have been collected and left to cure naturally over a 6-8 week period. The scientific name for the Tamanu Nut Tree is Calophyllum Inophyllum - an evergreen tree and a member of the Mangosteen Family. This tree is indigenous to tropical countries, especially the Melanesian Islands of Vanuatu.
Scientific Name: Calophyllum Inophyllum Seed Oil
Product Name:Tamanu Oil; Tamanu Nut Oil
Origin: Vanuatu, South Pacific
Extraction: Virgin/Unrefined/Cold Pressed
Shelf Life: Minimum of 2yrs
Product Classification: Wild Harvested;Naturally Organic;
INCI Name: Calophyllum Tacamahaca Seed Oil
CAS Number: 223748-12-7
Color - Rich luxurious, dark green
Odor - Fatty, nutty and odoriferous
Tamanu Oil Uses: Ingredient for cosmetic formulations and hair conditioning product
The real healing power of this traditional topical oil is its unique ability to promote the formation of new tissue, thereby accelerating wound healing and the growth of healthy skin (anti-aging). The scientific term for this process is "cicatrization". Scientists don't fully understand the unique cicatrizing properties of the Oil as it has an extremely complex portfolio of chemistry that is difficult to decipher or explain. However, scientific studies clearly establish that Tamanu Oil is a significant healing agent, not only because of its ability to produce new skin tissue, but ALSO because of its anti-inflammatory, anti-neuralgic, antibiotic and antioxidant properties.
In addition, Tamanu Oil contains Sc Glucan which provides natural UV protection in that it prevents 85% of the DNA damage and oxidative stress induced by UV radiation at 1% concentration as a new biological UV filter with a SPF 18-22. (Eur J Pharm. Sci 2007 Mar;30(3-4):203-10. Epub 2006 Nov 9).
Tamanu Oil Use / Benefits
TAMANU OIL BENEFITS FOR THE SKIN AND BODY
| | | | |
| --- | --- | --- | --- |
| | Acne scars | | Dermatitis and Eczema. |
| | Ulcers, boils, scrapes, sores and cuts. | | Cellulite. |
| | Dry, itchy or scaly skin | | Stretch Marks. |
| | Skin blemishes and rashes. | | Sciatica and Rheumatism. |
| | Dermaphytosis of the scalp or beard. | | Shingles, sunburn. |
| | Psoriasis. | | Age Spots. |
| | Burns, insect bites and stings. | | Diabetic sores, Neuralgia |
| | Athletes Foot. | | Herpes sores. |
| | Foot odor / body odor. | | Nappy Rash. |
| | Chilblains, Fissures, Ring Worm. | | Infected wounds, general swelling. |
Relieves and protects the skin against inflammation, skin redness, sunburn and insect bites. EVIC-CEBA laboratory study June 2000 - Ih268/01. (ABICH oct.2005 - REL/244/05/FUNZ/ELB).
Has a regenerating effect on the skin (especially the epidermis cells) and so it effective for healing wounds, burns, cuts etc. Microna laboratory feb. 2003 - N°03/0607i.
Reduces scarring, especially the appearance of scars that are one or more years old). BioScience Laboratories conducted a study of Tamanu oil's ability to improve the appearance of scars. Six subjects with obvious scars aged for one year or more participated in the test. Subjects were not allowed to use moisturizers on their scarred areas for seven days before the test or throughout the nine-week test period. Scars were rated for roughness, length, width and degree of difference from surrounding normal skin. Measurements of darkness and redness were also taken for scarred and surrounding normal skin. Digital photos of scars were taken prior to initial application and at the end of week nine.Tamanu oil was applied to the scarred area twice daily for nine consecutive weeks. There was significant improvement in appearance of scars after six weeks, and improvement continued through week nine. Scar length was reduced by an average 0.28 centimeters, and width was reduced by an average 0.12 centimeters. [Beausoleil] Australian Society of Cosmetic Chemists Annual Congress, Hamilton Island 2003.
Is an anti septic and anti acne (Phytochemistry. 2004 Oct;65(20):2789-95).
Has anti viral properties (Bioorg Med Chem Lett. 1998 Dec 15;8(24):3475-8) & (Med Res Rev. 2000 Sep;20(5) : 323-49).
Has antibiotic, antibacterial, anti-fungal and anti-coagulative properties (Yao Xue Xue Bao. 2004 Apr;39(4):305-8); (Microna laboratory oct.2002 - °02/4500i) & (Indian J Exp Biol. 1970 Jan;8(1):39-40).
Contains 4-Phenylcoumarins from Calophyllum (ie. anti-tumor-promoting agents or cancer chemopreventive agents. Cancer Lett. 2001 Aug 10;169(1):15-9. In Nagoya, Japan the Faculty of Pharmacy at Meijo University found that Tamanu Oil benefits indicated that of ten 4-phenylcoumarins isolated from Calophyllum Inophyllum, all of them showed inhibitory activity against Epstein-Barr virus (BV), without any cytotoxicity. Of these, Calocoumarin-A (5) showed more potent activity than the others and calocoumarin-A (5) exhibited a significant inhibitory effect on skin tumor promotion in mice. Even though their test subjects were rats, the results of the studies strongly indicate that some of these 4-phenylcoumarins might be valuable as potential cancer chemopreventive agents (anti-tumor-promoters) in humans. Source: Cancer Letters, Volume 169, Issue 1, Pages 15-19 M. Itoigawa.
Has anti ageing and anti wrinkle qualities - Moisturizes, nourishes and repairs the epidermal cells of dry and damaged skin...) Microna laboratory feb.2003 - N°03/0607i.
Increases microcirculation (heavy legs, bruising...) Dermscan - april 2007 - study N°07D0458
Body hygiene (body odors, infections, skin rashes, dermatitis, psoriasis...) Phytochemistry. 2004 Oct;65(20):2789-95
Hypoallergenic (non irritant, non sensitizing). Dermscan April 2007- study DN-730/07EO398
Is exempt of the 26 allergen substances listed in 2003/15/CE European directive.
As a result, Tamanu Oil benefits include everything from anti aging skin care to acne scar treatments and a natural solution for acne and many other common skin conditions.
---