Charlie Banana 3 Reusable Feminine Pads (Super+) - Floralie (with 1 tote bag)
Product Description
Awards: Eco Excellence Awards 2017 Finalist
Size type: Super+
Size (Absorption layer): 7 x 28 cm / 2.6 x 11 in
Absorption (Approx ml): 120 ml
Charlie Banana¨ feminine pads are comfortable, stylish, and a much healthier alternative to conventional disposables hygienic products. Our pads are easy to wash, unbelievably stain-free, and naturally super absorbent. Wear them everyday: at work, at home, while exercising. Ideal for travel because they will stay in place! Many women are sensitive to chemicals commonly found in disposable pads. Gynecologists have advised women to use alternative products without perfumes, bleach, or containing any super absorbent chemicals. Once you try our healthy, gentle feminine products, you'll never want to go back!
Goodbye risks of Toxic Shock Syndrome from chemicals filled hygienic tampons and pads!! Charlie Banana¨ Feminine pads are simply the best.
Includes: 3 pads, 1 waterproof mini tote bag. (Random Prints / Colors)
Tips:
- They are ideal starter kit for any young girl having her first period.
- Perfect to use with any menstrual Diva cup
- Recommended to be used with wide crouch underwear.
● Eco-friendly ● Economical ● Free of perfumes, ● Ideal for Athletes ● Very Soft ● Unbelievably stain-resistant ● Great absorbency ● Perfect comfort ●
Size Chart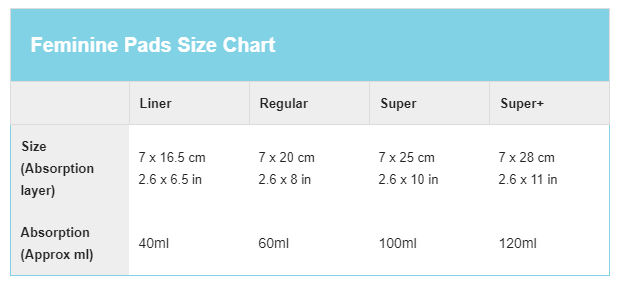 Materials / Ingredients
Shell-Face: 100% Polyester, Back: Polyurethane / Lining: 100% Polyester / Inner layer: 88% Biconstituent Fiber (82% Polyester 18% Nylon) 12% Polyester
Care Instructions
Rinse thoroughly the pad under running water, then place in a washing pail until ready to wash. Place in washing machine and select cold or warm wash to a maximum of 40°C. Use Eco friendly detergent. Only half of the recommended amount is needed. Do not use fabric softener or bleach. Hang to dry or place in the dryer, tumble dry LOW. Do not iron. If you have any questions about this product, please contact [email protected]
CB Tip: Recommend to soak with Charlie Banana detergent
---