Foreo LUNA Play Plus - Sunflower Yellow
Product Description
Get More From A Face Cleanser And Spa-like Massage
When you want facial cleansing and massaging that complements both your skin and your busy lifestyle, look no further than the cute and compact LUNA play plus!
LUNA play plus takes everything you love about the tiny but mighty LUNA play and adds that little extra plus you need for a perfect complexion. It has a larger brush head for distributing T-Sonic™ cleansing power, plus it uses a replaceable AAA battery so you can enjoy your LUNA for much longer!
It fits in your purse, backpack or gym bag and you can indulge in cleansing routine for a 1 – minute any time!
CLEANSING MODE The LUNA™ play plus removes 99.5% of dirt and oil*, as well as makeup residue and dead skin cells. We recommend cleansing with the LUNA™ play plus for 1 minute every morning and evening.
SPECIFICATIONS
MATERIALS: Body-safe silicone & ABS
COLOR: Sunflower Yellow
SIZE: 64x60x28mm
WEIGHT: 60 gr
BATTERY: 1 AAA battery
USAGE: up to 400 uses per battery
STANDBY: 180 days
FREQUENCY: 150 Hz
MAX NOISE LEVEL: <50 dB
INTERFACE: 1-button
*Based on clinical tests, results on file
Features
TAKE T-SONIC™ ANYWHERE

More gentle than any other deep cleansing brush, T-Sonic™ pulsations are diffused through soft silicone touchpoints to gently unclog your pores to remove up to 99.5% of dirt and oil, plus dead skin cells and makeup residue. Using LUNA play plus twice a day wherever and whenever will leave your skin soft, smooth, and absolutely glowing!

TRUE TO TYPE

LUNA play plus may be small, but it comes equipped with a broad 2-zone facial brush to suit every skin type. Its finer touchpoints to cleanse sensitive/normal skin on larger areas like the cheeks and forehead, while thicker touch points provide a deep and precise cleansing on areas like the T-zone.
---
A SKINCARE BREAKTHROUGH
Channels 8,000 T-Sonic™ (transdermal sonic) pulsations every minute
Allows effective deep cleansing and massaging that remains gentle on your skin
EXTRA GENTLE & HYGIENIC
Rounded silicone touchpoints gentle enough for daily use
Made of quick-drying, nonporous silicone that resists bacteria buildup
Up to 35X more hygienic than standard bristled cleansing brushes
DESIGNED AROUND YOUR LIFE
Fully waterproof
Travel-friendly size
How To Use
The LUNATM play plus' 2-zone brush is suitable for all skin types, featuring thinner touch-points to gently cleanse sensitive or normal skin and larger areas like the cheeks, and thicker touch-points on the top for precision cleansing and to deeply cleanse areas like the T-zone.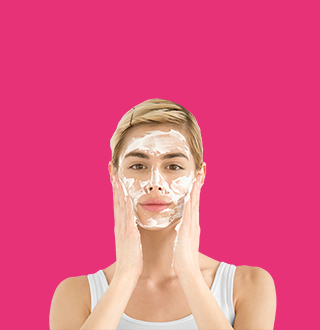 1. Apply cleanser
Remove all makeup, wet the LUNA play plus then dampen your face and apply your regular cleansing product. Turn on your LUNA play plus by pressing the center button once.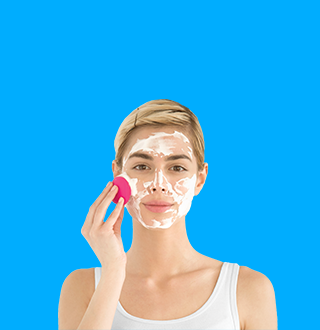 2. Cleanse
CLEANSE THE FOLLOWING ZONES:
- Massage your chin and cheek using circular movements and repeat on the other side.
- Starting from thecenter, massege your forehead with gentle outward circular strokes.
- Massage the nose by gliding up and down one side, thenthe other. Delicately massage theunder-eyeregionusing outward strokes. Press the center button once moreto turn off the LUNA play plus.
3. Rinse
Rinse and dry your face to complete the 1-minute cleansing & massaging routine. Then, apply your favorite skincare products, if any.
CAUTION: If you experience any discomfort when using your FOREO device, discontinue use immediately and consult a physician.
Cleaning Device
CLEANING YOUR LUNA™ play plus

Always clean the LUNA play plus thoroughly after use.
Wash the brush surface with water and soap, then rinse with warm water.
Pat dry with a lint-free cloth or towel.
We recommend spraying the device with FOREO's Silicone Cleaning Spray and rinsing with warm water afterwards for optimal results.
NOTE: Never use cleaning products containing alcohol, petrol or acetone, as they may irritate the skin.
Important
FOR OPTIMUM SAFETY:
• Avoid using clay-based, silicone-based or grainy cleansers, exfoliators or scrubs, as they may damage the LUNATM play plus' soft silicone touch-points.
• If you have a skin condition or any medical concerns, please consult a dermatologist before use. • Cleansing with the LUNA TM play plus should be comfortable – if you experience discomfort, discontinue use immediately and consult a physician.
• Exercise particular care when cleansing the under-eye regions and do not bring the device into contact with the eyelids or eyes themselves.
• For reasons of hygiene, we do not recommend sharing your LUNATM play plus with anyone else.
• Avoid leaving your LUNATM play plus in direct sunlight and never expose it to extreme heat or boiling water.
• Close supervision is necessary when this device is used by, on, or near children, as well as those with reduced physical and mental abilities.
• Discontinue use if this product appears damaged in any way. This product contains no serviceable parts.
• Given the efficiency of the FOREO cleansing & massaging routine, we recommend that you do not use the LUNATM play plus for more than 3 minutes at a time.
• Use this device only for its intended use as described in this manual. If you do not find the answer to your specific question, or if you have any other questions regarding the device's operation, please visit foreo.com/support.
---