Grandpa Soap Co. The Original Wonder Soap Pine Tar (Choose Your Size)
Product Description
The Grandpa Soap Co. The Original Wonder Pine Tar Soap is excellent for bathing, showering, shaving, and shampooing. Many loyal users have been testifying for generations how "wonder"ful it cleans, moisturizes, and deodorizes. Customers have described pine tar as being helpful with various skin irritations such as scales or psoriasis, dandruff, and eczema. No added colors or fragrances. Vegetable based.
An Original Recipe Trusted for Generations
Ideal for showering, shampooing, and facial grooming, this 3-in-1 wonder is made with natural pine tar oil to deeply cleanse, deodorize, and moisturize from head to toe.
Natural Ingredients

100% Vegetable Based

For Face, Body, & Hair
No phthalates, sulfates, parabens, EDTA, Glutens, Animal By-Products, Artificial Fragrances or Colorants.
Size: 3.25 oz (92 g)
Ingredients
Sodium Palmate, Sodium Cocoate / Sodium Palm Kernelate, Water (Aqua), Glycerin, Pinus Palustris Wood Tar, Sodium Chloride, Sodium Gluconate
MADE IN AMERICA
NO PHTHALATES, SULFATES, PARABENS, EDTA, GLUTENS, ANIMAL BY-PRODUCTS, ARTIFICIAL FRAGRANCES OR COLORANTS
FDA APPROVED
Direction
Lather and rinse.
Frequently Asked Questions
Does the new packaging mean they've changed their formula?
They felt it was time for The Grandpa Soap Company to update their packaging utilizing sustainable packaging components while refreshing their look with more modern elements. If you review their timeline you can see the packaging evolution since the late 1800's. Wonder Pine Tar soap formula has not changed. However, they've refreshed the specialty line by adding some exciting new soaps with hardworking, natural ingredients.
How do they obtain their pine tar oil?
Grandpa's Pine Tar Oil is 100% pure kiln-burned Wood Tar, imported from Sweden. It is manufactured in a closed vacuum system at high temperatures that does not generate creosote and is manufactured and tested under closely controlled conditions to ensure quality and uniformity.
Do they use nano size titanium dioxide in their products?
They do not use titanium dioxide that is ultrafine or nano sized in any of their personal care products.
What do they use to make the base of their soaps?
The base of all Grandpa's soaps are made from coconut and palm oils.
Are their soaps biodegradable?
Grandpa's Soap is completely biodegradable. All surfactants used in Grandpa's are biodegradable. This means all surfactants (sudsing/cleaning agents) are broken down into simpler compounds by natural biological action helping to eliminate sudsing/foaming problems in lakes and streams.
Do their products contain soy?
Grandpa Brands Company does not use soy in any of their products.
Are their products gluten-free?
Most of Grandpa's soaps are gluten free but some of their soaps do contain oat or corn. These would include Grandpa's Oatmeal Soap, Grandpa's Chamomile Soap and Grandpa's Indian Corn Soap.
What is the source of the vegetable glycerin?
Coconut and Palm oil.
Is the Grandpa line organic?
They make no claims to be organic. Rather, they do strive to make their products as natural as possible.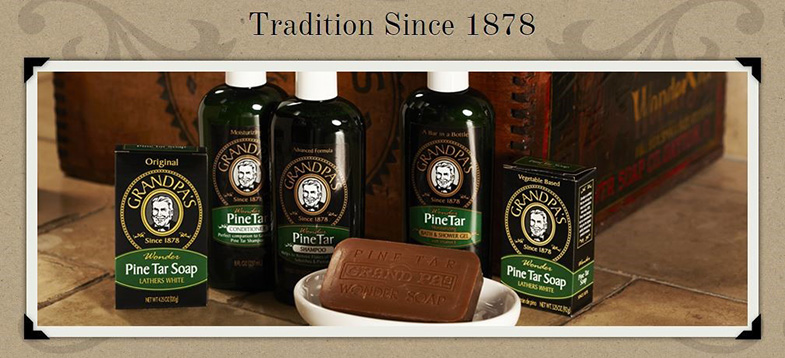 ---