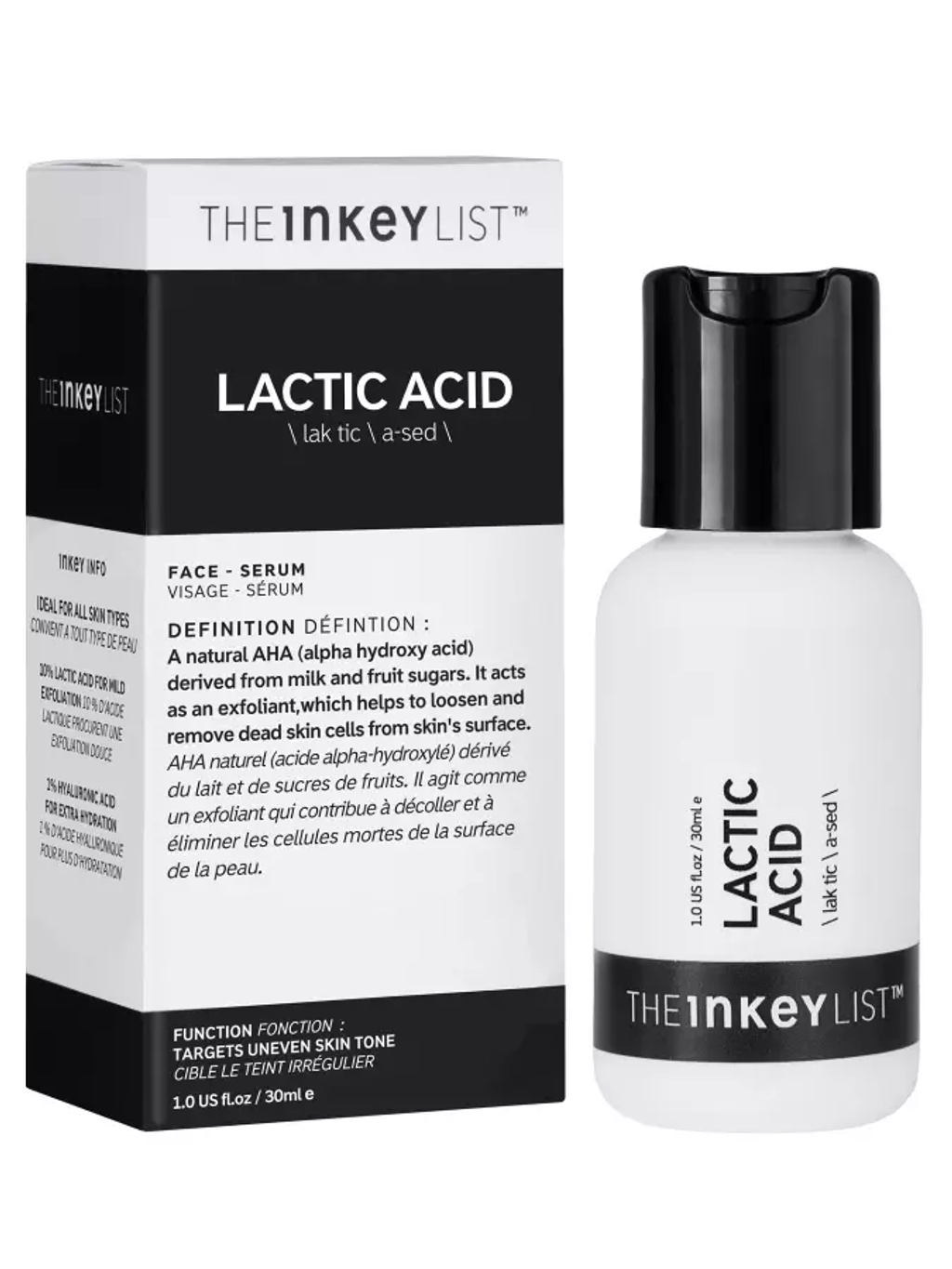 The INKEY List Lactic Acid Serum 30ml
Product Description
The natutal AHA (Alpha Hydroxy Acid) in the The INKEY List Lactic Acid Serum is derived from milk and fruit sugars. It acts as an exfoliant, helping to gently loosen and remove dead skin cells from the surface for a more even skin tone and brighter complexion.
Gentler than other AHAs, lactic acid has moisturising properties for smooth, soft skin.
Lactic Acid acts to:
- Target uneven skin tone
- Works to even skin tone
- Brighten skin tone
- Reduce the appearance of wrinkles
INKEY Info:
- 10% Lactic acid For gentle exfoliation.
- 1% Low molecular Hyaluronic Acid for deeper hydration, acting as a carrier beneath the skin surface.
- Suitable for all skin types.
- Paraben free, fragrance free.
Directions
Use in the PM. Apply one to two drops to the fingers and gently pat into cleansed skin. Follow with other serums and moisturisers. Start with one application every other night and increase to once daily if desired.

The INKEY List Tips:
Lactic acid is an AHA (Alpha Hydroxy Acid) AHAs are a gentle and effective way to exfoliate the skin, you just need to ensure you're choosing the one that's right for you and not overdoing it. Lactic Acid is the gentlest of all of the AHAs. If you're new to AHAs or have sensitive or dryer skin, it is a good place to start. We advise starting with every other night to begin with.
How quickly the skin renews itself is dependent on age, and whilst you may see some instant effects from the product, you will see the full effect within 30 days of beginning use.

How to use with other products:
AHAs can be combined with most other products, however there are a few to be careful with to ensure you don't sensitise the skin.
- When combining with a Vitamin C serum - Both are amazing ingredients that can help with healthy looking skin, however it would be best to use Vitamin C in the AM and Alpha Hydroxy in the PM. The acidic PH of both could lead to increased sensitivity and irritation if used together. Vitamin C works best in the AM due to its antioxidant properties.
- Using with a retinol - If you are also using a retinol product in your evening routine, and want to add an acid we suggest using acids weekly or if you want to use your acid more regularly alternating with retinol. If you do wish to use both on the same day, due to pH levels we would recommend waiting around 20 minutes before applying your retinol and be careful of overuse as both increase skin renewal and may cause sensitivity.
- Using with other AHAs - We would recommend only using one AHA at a time (This includes Glycolic, Alpha Hydroxy and Lactic acid) Whilst they can have slightly different benefits you can have too much of a good thing and over exfoliation can lead to increased sensitivity.

Advice and Warnings:
AHAs can increase sun sensitivity due to their exfoliating properties. Covering areas where the product has been applied with sunscreen and for 7 days after use is recommended. Avoid direct contact with eyes and lips. External use only. If irritation occurs discontinue use and consult a doctor. You may feel a slight tingling or hot sensation on the skin when applying, this is normal. However, if there is any itching or a prolonged burning sensation discontinue use immediately.
Ingredients
Aqua (Water), Lactic Acid, Propanediol, Glycerin, Sodium Hydroxide, PPG-26-Buteth-26, Sodium Hyaluronate, Phenoxyethanol, PEG-40 Hydrogenated Castor Oil, Ethylhexylglycerin, Trisodium Ethylenediamine Disuccinate, Agastache Mexicana Flower/Leaf/Stem Extract.
---