Please be informed that we will be conducting website maintenance tonight, which is scheduled from 9:00 PM to 9:30 PM at 05-July-2019.

During the above period, you will not be able to access your account, and also conducting any transactions. The maintenance is important for the installation of new SSL certificate installation that is going to expire this month. Role of SSL certificate is to allow secure connection from our web server to your browser.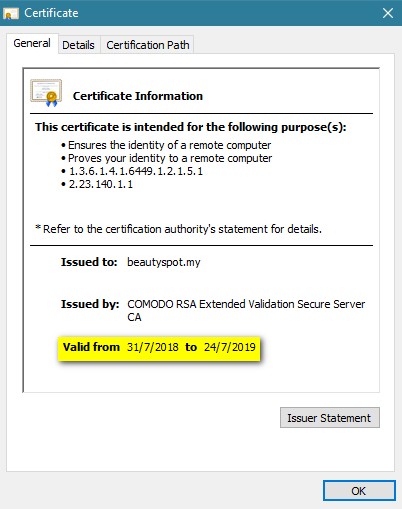 Once the installation is over which is expected by 9:30 PM, you will be able to browse our website, www.beautyspot.my as usual and most importantly, if you are using Desktop browser, you should see the same lovely green bar "Strawberry Tags Enterpise [MY]" on your browser bar to indicate you are at the correct website - not a phishing site.

Phishing site is a website that imitating legitimate website, but in no way are related to the owner of a website that they are imitated to. In other words, if you are on the phishing site, your personal data information, credit card information, and so on will be stolen by the bad guy and we leave it to your imagination, what kind of catastrophe that it will be!





Only the highest level of SSL certificate that comply with the strictest criteria, namely EV-SSL has the organization name on the browser bar, e.g, Maybank2u, Public Bank, and so on. We are so proud to serve you the same safety and security when you are browsing our website, just like when you were browsing those infamous credible websites.

If you have any questions, do not hesitate to contact us either via email to cs@strawberry-tags.com or text us via Whatsapp at +601152592353.